In July 2021 it was announced that Brisbane would be the host of the 2032 Olympics. While this has brought much excitement to some businesses and people in the region, there are also a wide range of concerns held by many people in Brisbane and across South East Queensland (SEQ) about the environmental, social and financial impacts of hosting the Olympics.
Regen Brisbane is hosting a range of community events and gatherings in 2023, 2024 and beyond, to coordinate the development of a "Peoples' Plan for the 2032 Olympics", so that community members and community organisations can share their ideas and concerns with decision makers planning the Olympics. 
Please scroll down to watch a special online forum we held in 2023.
Please come back to this webpage or sign up to our newsletter, for updates about our "Peoples' Plan for the Olympics"
You can find more information on the background of the Brisbane 2032 Olympic and Paralympic Games here.  
Beyond 2032
From July to September 2022, Regen Brisbane / meeanjin , in partnership with QSEC (Queensland Social Enterprise Council), hosted a series of webinars and discussions to provide an opportunity for people in Brisbane and SEQ to hear about plans for Brisbane / meeanjin relating to the 2032 Olympics, to share ideas and find ways to influence processes going forward, and to devise ways to create a regenerative Brisbane beyond the 2032 Olympics.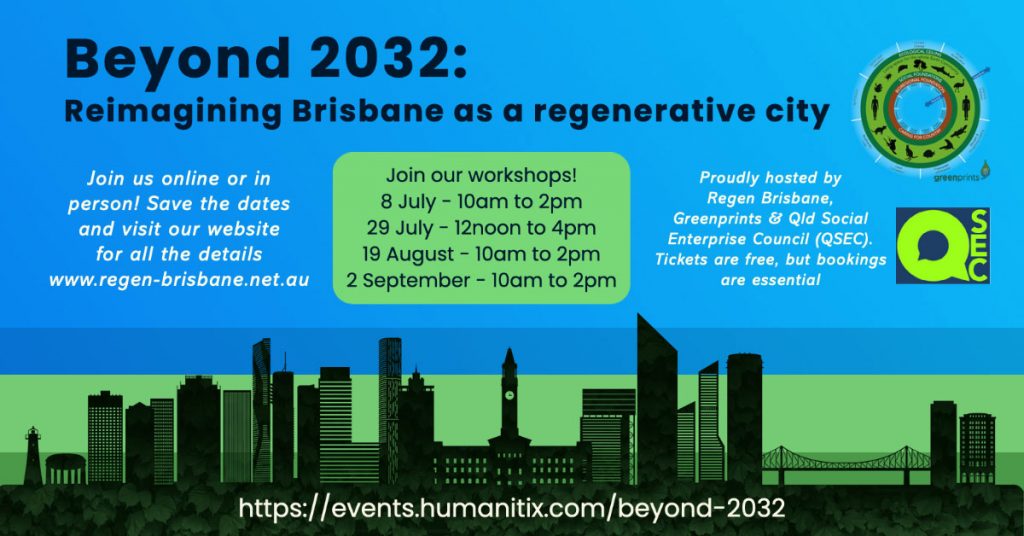 See the recordings from the Beyond 2032 event series here.
See the Regen Brisbane / meeanjin events page for information about upcoming events and past events.