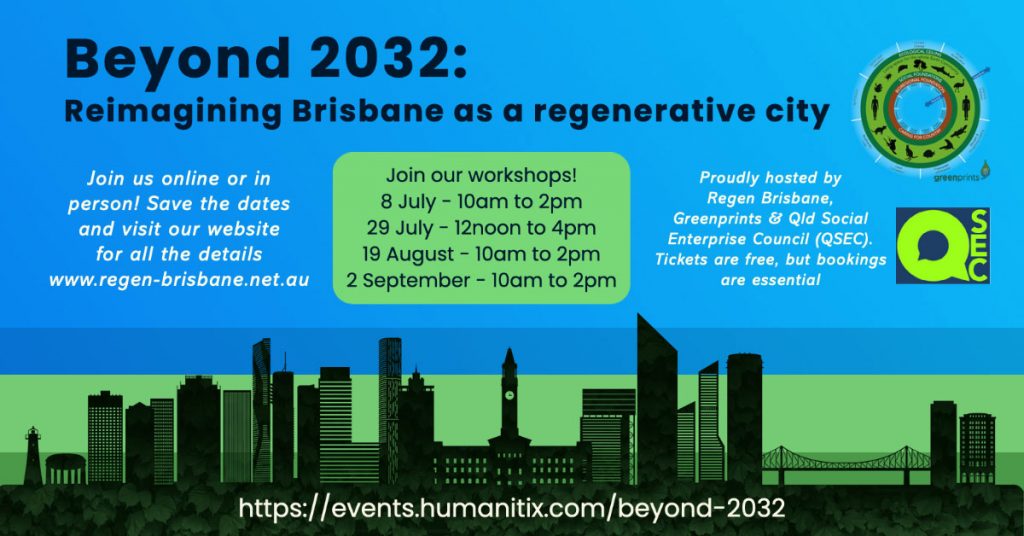 As Brisbane races toward the Olympic Games in 2032, what vision do we want to see for Brisbane's future? How do we build a regenerative approach to the design of our city and society? What do we want to see for the Games, but also for our society for Beyond 2032?
Workshop Recordings
Workshop 1: OUR CULTURE
Workshop 2: OUR SOCIETY
Workshop 3: OUR ENVIRONMENT and BIOREGION
Workshop 4: OUR ECONOMY
Regen Brisbane and the Queensland Social Enterprise Council (QSEC) teamed up to host a series of workshops and discussions to provide an opportunity for people in Brisbane and SEQ to share ideas, explore their vision for the future, and find ways to influence processes going forward.
ABOUT OUR WORKSHOPS – JULY TO SEPTEMBER 2022
Regen Brisbane and QSEC invited community groups, social enterprise practitioners, environmental specialists and community members to join us for one, or all, of our four workshops from 8 July to 2 September 2022. The workshops engaged with the 'Doughnut Economics' and Greenprints frameworks to stimulate discussions and map out ideas for our future. The agenda for each workshop included presentations on particular themes, with time for questions and discussions.
WORKSHOP SCHEDULE
8 July (10am to 2pm) – OUR CULTURE
29 July (12noon to 4pm) – OUR SOCIETY – online only
19 August (10am to 2pm) – OUR ENVIRONMENT AND BIOREGION
2 September (10am to 2pm) – OUR ECONOMY
NEXT STEPS
2022 – September/October – QSEC will present the initial reports from our workshops, to the Social Enterprise World Forum (SEWF); QSEC and Regen Brisbane will also share the reports with governments and others.
2023 – February to November 2023 – the initial 'vision' report will be used as a basis for opening up a series of workshops, research and 'community think tank' events, to develop a detailed report and set of scenarios for a regenerative future to fund, action and create. A major report will be created by early 2024 to demonstrate how regenerative scenarios for Brisbane can enable our communities, environment and economy to thrive.
MORE INFORMATION
Email us: info@regen-brisbane.net.au