A Regen Brisbane/Meeanjin Initiative
Regen Brisbane/Meeanjin is proudly collaborating with Australian Earth Laws Alliance, The Shady Lanes Project and Evah Institute to run the "Regenerate Our Brisbane Streets Initiative". 
Thanks to our wonderful sponsor and supporter, the Ingrained Foundation, the project aims to transform barren streetscapes within Brisbane into one with street trees and native plants to invite and enhance biodiversity throughout the city.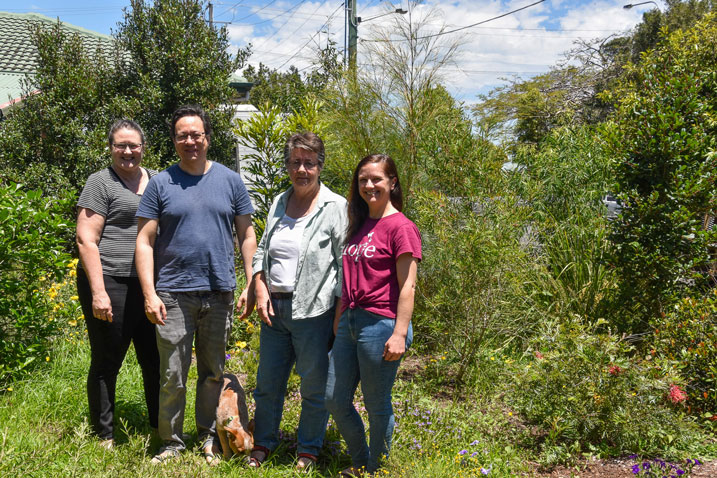 Banyo community first to create biodiverse verges!
The first suburb engaging in the project is Banyo (in North Brisbane), and we have a wonderful community already emerging with committed and enthusiastic Banyo Residents. We are also collaborating with a number of local organisations such as ACF Community Brisbane Northside, Nundah Community Enterprises Co-operative and Queensland Walks.
You can find out more information about the Banyo Verge Garden Pilot Project here.
The amazing benefits of verge gardening and increasing biodiversity in our city
Research from The Shady Lanes Project shows that if just 5 out of every 10 households in one Brisbane City Council ward alone converted an average of 40 square metres of grass to a native garden, it would create more than 600 hectares of biodiverse habitat and corridors threading through the Brisbane City Council area connecting larger areas of greenspace such as private gardens, parks, and creeks without the need to buy any land.
Green Spaces like verge gardens reduce the impacts of climate change by absorbing more carbon dioxide from the air and improving the amount of vegetation in cities which will help address rising temperatures. They are good for human health and wellbeing by reducing heat-related deaths, creating jobs, fostering community by bringing people together and it encourages exercise.  
Verge Gardens are also great for wildlife as they can reconnect habitat through wildlife corridors and attract native birds, lizards, and insects for improved biodiversity.
Community building
This project will offer residents a community building opportunity, as households will be invited to meet and discuss the planting projects. Green spaces often act as neighbourhood meeting points, connecting communities and bringing people together.
There are so many other benefits of greening cities with verge gardens, you can read about them in Australian Conservation Foundations report here.
We are proudly engaging with local Social Enterprises like Nundah Community Enterprises Co-operative who directly address social, cultural and environmental needs. Our project will help create job opportunities and new training opportunities for those that deliver value to the community they serve.
We look forward to Working together on regenerative projects such as this in your community in the near future.
Kira Athanasiov, Regen Brisbane Community Coordinator